Reporting Basse (Photos)
Sunday, January 30, 2011
SPOTLIGHT ON THE BASSE ASSOCIATION ...
Since its inception, a little less than two years ago, the Basse Association (BA), funded entirely by volunteer members around the world, has been working on a number of initiatives in Basse. Consider:
EDUCATION
Sponsoring needy students  from the three primary schools in Basse: Koba Kunda, St George's and St. Joseph's. (Award Ceremony Photos.)
BA VP Alh. Mamadou Sellou Jallow Delivering Cash to URR Regional Education Officer
St. Joseph's Primary School's Pupils: the Faces Of Promise and Hope. And the Future.
Rising to the Occasion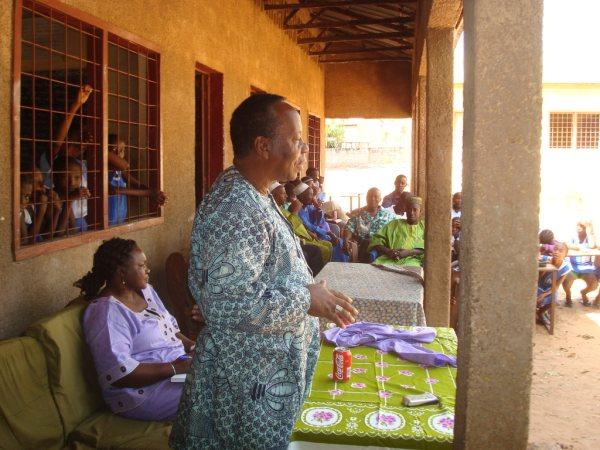 URR Governor Alh. Omar Khan Delivering Speech On Ceremony Day 
HEALTH
Providing the Basse Health Center with hospital supplies (Towels, Linens, Bath Robes)
Delivering the Hospital Supplies
Governor Khan (standing left) With Community Leaders at the Basse Health Center
With Basse Health Center Official Far Right: Thank You, Basse Association!
(l-r): Governor Khan, BA Executives Hassan Touray, Filly Sabally and Dawda Sankareh
Center from the left, BA Executive Members Dawda Sankareh and Hassan Touray (White) Inspecting Bedrooms At Basse Health Center
SPORTS
Sponsoring a Nawetaan tournament in memory of deceased Basse footballers.
For Their Contributions To Basse Sports, An Honorable Tribute 
At the Basse Mini Stadium, the Spectators Leisurely Watched On .... 
.... And Supported Their Respective Teams  
The Handshake Before the Clash  
BA Executives Dawda Sankareh (Behind), Ousainou Krubally (Yellow), Hassan Touray and Basse Area Council Chairman Omar Ceesay At the Tournament
At Dusk, the Party Is Still Far From Over 
BA Sports Secretary Ousainou Krubally Delivering Speech On Final Day 
To the Champions (Manju FC), Goes the Trophy! 
Community Outreach
Meeting with the people and delivering service.
BA Project Manager Dawda Sankareh (front right) Meeting with Basse Central Mosque Elders 
In the Middle, Basse Alkalo Alh. Nasiru Barry 
BA Consultant and Facilitator Michael Hamadi Secka Opening Recent Town Hall Meeting In Basse 
 BA Executives Bakary Jallow (Black) and Dawda Sankareh Purchasing Roofing Supplies For Ablution Project At Basse Mosque 
At the Basse River, BA Senior Adviser Wuyeh Yorro Sanyang Helping In the Transportation Of Water For Ablution Facility Project  
 ... AND ON BASSE
People and Places
 Diaspora Report: Basserians in the UK  
Standing (l-r): Asi Kolong Jallow with daughter, Musa Sillah, Kebba Jaiteh, Bakary Manneh (Old-Pa Sonko), Alhagi Sey, Isatou Sidibeh.
Squatting (l-r): Mariama Sabally, Assan Jaiteh, Yusupha Krubally, Wuyeh Keita.

 The Popular Awlubeh Cultural Troupe Of Basse
Cruising Through Town 
 Basse Youth Association Members Working On Road To Manneh Kunda
Crossing the Basse River
Under Water: Recent Gambian Floods Didn't Spare Basse... Market Area
Water Everywhere
---